Lighting is key to any home, and it can be so much more than just a typical single bulb in the middle of the room. Smart lighting can change the feel of a room instantly, whether it's setting the tone for a relaxing night in, or lighting up that gloomy day, an Amica smart home can deliver, just take a look at some of the key features of smart lighting;
Colour changing and brightness control from one light switch
Lighting scenes that change with the time of day
Create custom lighting scenes yourself with the Loxone app
Turn all the lights off in the entire house with 1 button.
Ensuring your house stays comfortable all year round can be a struggle, with summer temperatures getting hotter than ever and winters harshers each year. There is no better time to start looking into automating your homes heating. An automated heating system can save money with practically no effort on your behalf, why bother spending money heating that empty bedroom?
Our heating systems will not only keep each individual room at a steady temperature throughout the day, but will learn your house (smart home) and intelligently turn on at the exact time to get each heating zone to temp when you want it. To take it a step further, each room can be zone controlled, meaning that you can keep your bedroom nice and cool while things are heating up in the living room.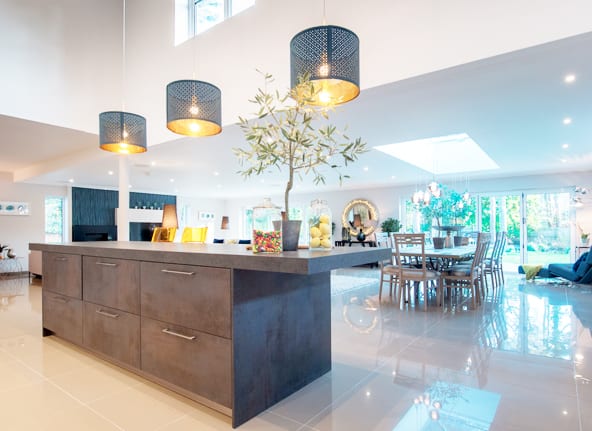 We at Amica know that your home is your castle, and making sure that it, and the people inside are a safe and secure as possible is important. A smart home is a secure home, with full motion detector coverage and easily armable alarms. You will be notified when ever when something isn't right. On top of this we can install remote access cameras covering points of entry and other key locations for ever further peace of mind.
Thanks to the Loxone water sensor, we can even insure your house is protected against flooding. If a leak is detected by any appliance or water pipe, your home will send you an alert and can even shut off water to the device, potentially saving a fortune on damages and repairs.
Blinds and curtains that open automatically at sunrise, and close again at sunset. Blinds that readjust themselves throughout the day to optimise the amount of light let through. Blinds that help with temperature regulation, adapting to allow more or less heat in. These are just a few things that a smart home can offer. Intelligent shading can help cut down on energy bills and help keep your house as green as possible.
With a few taps as you leave your smart home, you can ensure that all blinds in the house are closed. Forgot to do that? Than you can remotely open and close any and all blinds from anywhere in the world. Anything is possible with a true smart home.
From Ceiling speakers to patios, There's an option for every customer. Room zoning means you can put on your guilty pleasures playlist while in the shower without interrupting the ambience in the living room.
Thanks to our partnership with Monitor audio and Meridian, we have a range of available speakers to suit every style and budget. If sleek floor standing is more your style, or if you prefer subtle in-wall speakers, Amica Smart Homes are up to the job. Still not sold? Why not visit one of our showrooms and see for yourself.
Be the envy of the neighbourhood with a brand new home cinema, with stunning 4k displays and truly awesome surround sound. Watch your favourite flicks like never before from the comfort of your own home.
Our bespoke designs are unique to each customer to suit your needs perfectly. We love home cinema, and we want you to love yours too, that's why we include you in the design process. With every stage of the project we like to make sure you are as happy with it as we are.
Take a look at some of our home cinemas here, or book a visit to one of our showrooms.
Smart irrigation includes rainwater harvesting, filtration, ground moisture monitoring, local weather, and forecast monitoring to intelligent zoned irrigation systems that learn and adapt. Your plants, grass, gardens, courtyards, or even whole fields will never be under-watered or over-watered again!
Traditional irrigation and watering systems work manually, which means a lot of pre-planning, or with simple time clocks linked to the watering pipes. A truly smart system will monitor all aspects of the current local weather and forecast what is due to happen over the next week.