A smart home where intelligence meets beauty. Located in Ferndown, East Dorset, this beautiful self build project was designed to seamlessly integrate smart home technology and stunning interior design.
Throughout the home, lights turn on and off automatically, providing convenience and saving energy. When the family returns home, they are welcomed to a home where lights automatically come on depending upon the time of day and level of light in the room. If there is enough natural sunlight in the room, the lights will not be required to come on, which is ideal for rooms that benefit from being flooded with natural light. Of course, after dusk or an overcast day, the lights will turn on with motion to ensure the room is always adequately lit.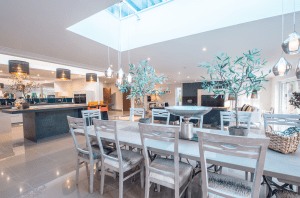 The home's heating system is zoned, ensuring energy is not wasted unnecessarily heating all the rooms simultaneously. If the family is enjoying a movie in the upstairs living room before going to bed, then it makes no sense to heat the larger reception area downstairs at the same time. Of course, the intelligent separation of heating zones is controlled automatically by Loxone. The heating for each room runs to its schedule and custom temperature. The temperature in each room is read by the Touch switches, which means there's no need for separate temperature sensors – another great way that the technology doesn't distract from the interior.
Architect Darren Crain and Amica Smart Homes Project Director Ben Tozer were keen to make sure that any intelligent technology didn't compromise the home's design, and it didn't. Loxone's stunningly designed switches & sensors were placed in strategic areas to allow seamless control over the system and have no negative impact on the home's design. For this, the multifaceted Loxone Touch was the perfect fit.

"Loxone Technology is at the forefront of the home automation industry. At Amica Smart Homes we are privileged to work on inspiring and exciting projects. As for the quality of the Loxone devices, we cannot fault the craftsmanship and technology, it is second to none."  
Ben Toser Project Director