The good news? We are all living longer, thanks to better public health and advances in medical science. The number of us reaching triple figures is increasing year on year. The number of centenarians in the UK rose by 52% in 2020.
However, while growing old is a privilege, a recent survey by the Disabled Living Foundation discovered that people were now more afraid of losing their independence in old age. More than two-thirds of people worried about being a burden on their friends and family or having to move into a nursing home. In addition, with only 3.7% of care homes rated as outstanding by the CQC in the UK, the appeal of staying in your own home is powerful! 
So, where does smart home technology come into the mix? 
Individuals can use Loxone technology to provide a passive, non-intrusive means of promoting independence and autonomy for our loved ones and giving peace of mind and valuable resources back to caregivers and providers. 
When considering assistive technology, we work with clients to consider an occupant's needs and abilities and the everyday challenges they seek to overcome. We are then able to help you introduce individualised and supportive solutions. 
For example, if the resident does not have an Internet connection or the connection is unreliable, it's imperative to choose a solution that is not reliant on the Internet to operate. Equally, a lack of confidence using smartphones or tablets and consequently feeling uncomfortable using an app; a solution that can run itself without any app intervention is essential. An app should always be complementary to an intelligent home system rather than central to it!
We would also consider how an individual's needs may change over time and seek to provide you with a solution that can be easily extended or adapted in the future. 
So what are the advantages?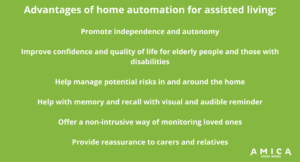 What would this look like? 
Fall detection
A person's presence can be monitored using a Presence Sensor or Door & Window Contacts. If no activity is detected after a particular period, an emergency call will be made to a relative or carer using the Caller Service.
Emergency Button
In an emergency, an individual could let people know quickly. The Button Air and the Wrist Button Air are perfect for enabling emergency calls.
Reminders
To help with daily tasks or to take required medication, Loxone's text-to-speech function can play a reminder at a specific time every day.
Access for emergency services
In an emergency, Loxone can flash the lights and automatically unlock the front door to help the emergency services. 
Behaviour changes
Loxone can be used to monitor and recognise behaviour changes, such as a significant increase in visits to the bathroom.
Electrical device monitoring
With Loxone, electrical devices can be monitored and, if necessary, be automatically switched off.
Examples of passive monitoring using smart technology
There are many applications for passive monitoring. However, here we illustrate a couple…
If an older person usually leaves the house every day (or perhaps opens the back door to let a pet out), a simple door contact will check that this is opened at least once a day. If this is not the case, a nominated point of contact can be notified via email or a phone call. This person can then decide on the best course of action – a friendly phone call to the resident to see if everything's OK or arrange for someone to go round and check on the resident.

Similarly, motion sensors can check for movement in the house. If no activity or only movement in one area is detected, a notification is sent. Motion sensors are also valuable for higher-risk home areas, such as the stairs or the bathroom.
It's also effortless to track whether appliances like kettles or toasters are being used. A simple, intelligent socket can track whether appliances are being used, such as the kettle. If a device isn't used within a set period, a notification can be sent out. The Smart Socket Air can be controlled remotely via the Loxone Smart Home app, so if an appliance was left on by accident, a carer or relative could switch it off from afar.
Reminders
For individuals with a visual impairment or those with a degenerative condition like Alzheimer's, using the motion sensors, a pre-recorded voice prompt can be played when a resident moves into a particular area. For example, a hallway motion sensor by the front door could remind someone to lock the door when leaving the house, or reminders can be set up to play at specific points in the day. 
Visual reminders are beneficial for those who are deaf or hard of hearing the lights. For example, lights could flash or pulse when someone's at the front door. LED tape offers an inexpensive way to add functionality. It can be configured to glow different colours according to the situation. For example, it might glow green when the phone rings or red when the smoke alarm is triggered.
Other helpful devices
The caller service allows you send and receive calls in the event of an emergency.
The button air makes it easy to activate alarm chains and make emergency calls.
Door and Window Contacts are battery operated and quickly detect the opening and closing of doors.
Presence Sensors detect movement via infrared and acoustic sensors.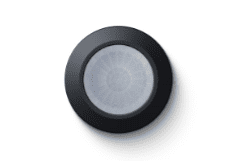 The Wrist Button Air, worn comfortably on the wrist in case of emergency.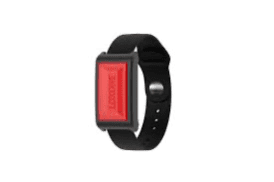 The battery-operated Water Sensor Air warns you about leaking water, helping prevent damage to the home.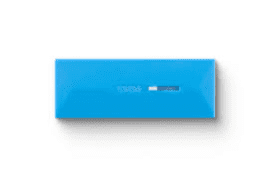 Let us not forget the ease, peace of mind and energy-saving benefits of fully automated lighting, zoned heating, intelligent home security and access control!
In conclusion, smart technology effectively allows an ageing population who desire to stay in their homes to do just that. While also freeing up caregiving resources and providing invaluable peace of mind.